Fort Worth, TX Dentist
Meet the Dentist
Get to Know Rhiannon B. Presley, DDS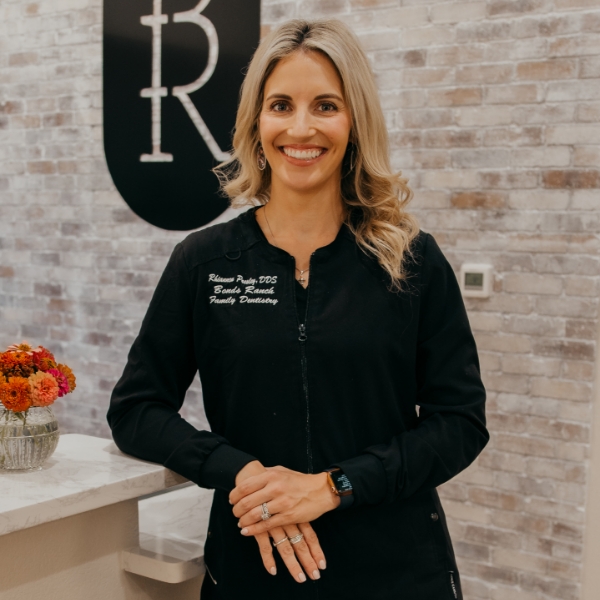 My name is Dr. Rhiannon B. Presley and I am proud to serve as your general dentist in Fort Worth at Bonds Ranch Family Dentistry.
I was born in southern California and moved to Keller, Texas at a very young age. In the third grade, when most children dreamed of becoming movie stars, ballerinas, and firefighters, I decided that I wanted to become a dentist. As I grew up, routine trips to the dentist continued to pique my interest and motivated me to pursue my career goal. While I maintained a strong interest in the many unique aspects of dentistry, the one thing that I did not grasp as a child was the absolute joy that comes with providing a patient with a beautiful smile. Improving the quality of life of my patients and allowing them to have confidence in their smiles is what drives me.
I was fortunate to be raised on principles of hard work, perseverance, and serving others. These principles are the foundation of my practice. I am a graduate of Baylor University and Texas A&M Baylor College of Dentistry. I have practiced dentistry in several different areas of the Dallas-Fort Worth Metroplex and am very happy to be back home serving Fort Worth, and the surrounding communities.
I am a member of the Fort Worth District Dental Society, the Texas Dental Association, the Texas Association of Women Dentists, the Academy of General Dentistry, the American Dental Association, and the ADA Advisory Circle. I love that the practice of dentistry is always evolving, allowing myself and our team to stay up-to-date with new techniques and procedures through continuing education courses.
When away from my dental practice, I enjoy spending time with my family including my husband, daughters, and labradoodle Mike, who is also a member of the Bonds Ranch team as a sympathy dog. I love being a dentist, but my favorite title is "Mom." My family comes first and as a patient at BRFD, you can expect to be treated like family. My hobbies include reading, working out, attending concerts, and supporting the Baylor Bears. I also love traveling and am passionate about seeing new places and experiencing different cultures. My dental studies have provided me opportunities to engage with patients from other countries and to travel around the world to assist underprivileged populations.
Over the years I have adopted the philosophy that the mouth is the window to the body and that oral health can tell a lot about your overall health. I strive to educate patients on dental hygiene and hope to give each patient the happy and healthy smile they deserve.
I look forward to meeting you and your family!
Request Your Appointment
At Bonds Ranch Family Dentistry, we make it convenient to plan your visit. Click the link to request an appointment time that best fits your busy schedule. We can't wait to see you!
Request Appointment