Dental Cleanings – Fort Worth, TX
Dental Cleanings
Keeping Your Smile Healthy and Bright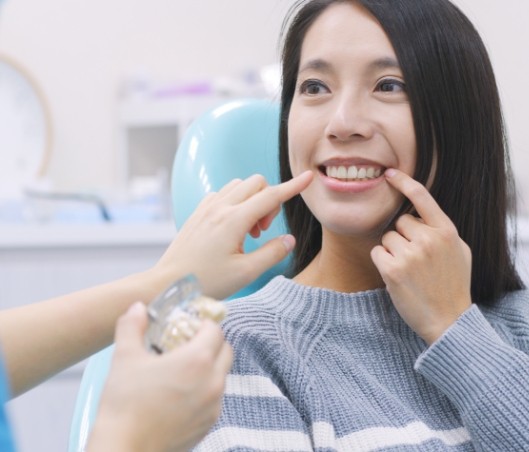 Regularly scheduled dental cleanings go a long way toward maintaining a healthy, attractive smile. Dentists recommend these cleanings to keep dental health issues at bay and prevent problems before they begin. Everyone from children to adults benefit from preventative dental care, and at Bonds Ranch Family Dentistry, we offer dental cleanings in Fort Worth for our patients.
Prevention
When you keep regularly scheduled dental cleaning appointments, Dr. Presley can help you prevent and correct small problems before they escalate to bigger ones. This preventative dental care can help you avoid issues like gum disease, tooth loss, or cavities. By screening for these types of problems, serious intervention can sometimes be avoided by solving the problem early on. Regular brushing is helpful, but a professional teeth cleaning removes hard-to-reach build-up and identifies signs of disease before it gets too serious.
Development
It is important for children to have regular cleanings so that any issues related to their teeth coming in can be addressed immediately. The development of problems like overbite, crooked or missing teeth, or tooth development that is slow or unusual can be reviewed with the child's caregiver at these cleanings. This is also a great time to ask questions and receive answers about proper brushing and flossing techniques that can be used at home.
Overall Health
There are studies that suggest that dental cleanings can help prevent health problems such as heart disease, rheumatoid arthritis, and diabetes. Dentists sometimes discover that you have serious health conditions by examining your teeth. This preventative dental treatment could uncover serious illnesses and even save your life.
Save Money
Investing in dental cleanings can help save you money down the line. A dental cleaning is much cheaper than fillings or restorative dental work. Scheduling at least two teeth cleanings a year can go a long way toward maintaining optimal dental health and preventing expensive complications. Keeping your teeth clean and healthy in the present helps you avoid costly procedures later on.
Prevents Bad Breath
Brushing and flossing can get rid of bad breath, but regular dental cleanings can do even more. When you have a build-up of bacteria in your mouth, a full teeth cleaning by a dental professional can accomplish a lot more than brushing alone. Dr. Presley has special tools and procedures that are meant to provide optimal dental health and get rid of unpleasant breath.
Appearance
When plaque builds up on teeth, they can have a stained, dirty appearance. Regular dental cleanings can keep teeth bright, white, and free of unsightly build-up. Clean teeth can improve confidence and make it easier to make a good impression. Smiles are meant to be shared, not hidden away out of embarrassment.
Request Your Appointment
At Bonds Ranch Family Dentistry, we make it convenient to plan your visit. Click the link to request an appointment time that best fits your busy schedule. We can't wait to see you!
Request Appointment