Dental Veneers & Crowns – Fort Worth, TX
Restore the Appearance of Your Teeth
Restore the Appearance of Your Teeth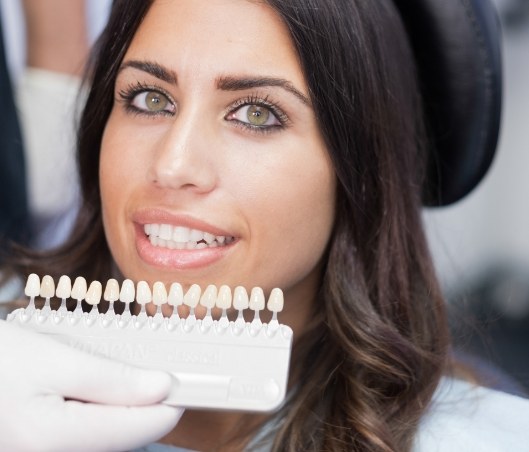 If you've ever seen Hollywood celebrities with perfectly straight, blindingly white teeth, chances are they had veneers or crowns. Both procedures can give you the smile of your dreams but offer different benefits and risks. So if you've been thinking about getting a dental crown, or if you're ready to take the plunge and get that veneer, we can help. At Bonds Ranch Family Dentistry, we proudly offer lifelike, personalized dental veneers and crowns in Fort Worth, TX.
What Is a Dental Crown?
A dental crown, also known as the cap, is a tooth-shaped covering that completely covers the entire visible portion of your tooth. It consists of porcelain or an alloy (a combination of metals). Porcelain-fused-to-metal (PFM) crowns can last up to 40 years. As a result, PFM crowns are a good choice for teeth that aren't as strong as they used to be.
What Is a Dental Veneer?
A dental veneer is a thin covering (1 millimeter) placed over your teeth to make them look more attractive, improve their shape or even correct a problem. A veneer is also sometimes called a porcelain veneer. We can make a veneer from porcelain (tooth-colored), composite resin, gold, or other materials. The procedure involves removing a small amount of the tooth's enamel to apply the veneer. The surface of the underlying tooth is then prepared and shaped before placing the actual veneer on top.
What Are the Similarities between Dental Crowns & Veneers?
Dental crowns and veneers are essentially the same things, except for a few key differences. Both crowns and veneers use porcelain or composite. Porcelain is stronger than composite, but it's also more brittle, which means it can break more easily than composite. You can remove crowns and veneers if you start having problems with them, but you'll need to replace the entire tooth once a crown breaks.
What Are the Differences Between Dental Crowns & Veneers?
The purpose of both a veneer and a crown is to restore the appearance of a tooth. A crown often restores a tooth that's weak or broken. A crown encases the entire visible part of your natural tooth. A veneer improves the look of a tooth by applying a layer of porcelain on top of it. There are many reasons why we find crowns and veneers useful. They both have their advantages:
Veneers
Dental veneers are generally more affordable than dental crowns
Dental veneers are thinner than dental crowns, so they're more comfortable
Dental veneers take less time to complete than dental crowns
Crowns
Dental crowns are more durable — they'll last longer than dental veneers
Dental crowns can be in places that dental veneers cannot
A veneer can be a great way to improve the appearance of your smile. It's inexpensive and comfortable, but its best use is cosmetic. On the other hand, a crown can save a chipped or decaying tooth. However, it isn't a good option when that tooth is too cracked to sit a crown on.
Request Your Appointment
At Bonds Ranch Family Dentistry, we make it convenient to plan your visit. Click the link to request an appointment time that best fits your busy schedule. We can't wait to see you!
Request Appointment